AURORA PK
PK AMINO | BLOOM ENHANCER
L-Amino BLEND
The L-Amino BLEND from Aurora is meticulously formulated to enhance growth during the flowering stage. Amino acids play an essential role in increasing the size of both buds and yields, ensuring that your produce thrives to its full potential.
Increased Potency
Using Aurora not only enhances the quality of the buds but also increases the sweetness, oil content, and flavor of the produce. This results in a product that has a distinctive taste and superior quality.
Sulfates increase taste
The addition of sulfates in Aurora's specialized formula is the key to enhancing terpenes in the produce. Terpenes influence aroma and flavor, and with the integrated sulfates, you can expect a richer and more distinct taste post-harvest.
PK AMINO | BLOOM ENHANCER
Aurora is a 0-24-30 fertilizer designed for the flowering stage, made from premium potassium and phosphorus. Enriched with magnesium and sulfur, it enhances the taste and aroma of crops. This blend increases the flavor intensity and terpene profile, leading to larger and richer yields.
Sulfates help enhance the flavor Using sulfates improves nutrient absorption, noticeably enhancing the flavor of fruits and vegetables.
Contains essential magnesium and sulfur for effective photosynthesis, along with the right amounts of potassium and phosphorus.
L-Tryptophan is an essential amino acid for plants. It plays a pivotal role in synthesizing auxins, plant hormones that regulate growth, development, and stress responses. This aids in bud formation and enhances plant strength during the flowering stage.
Ideal for injection systems like Dosatrons, Inline-Injection, and electric injectors, or directly mixed from the bag into water tanks and concentrated liquid fertilization.
Aurora fertilizer is ideal for various plants during their flowering and fruiting stages, including fruits, vegetables, flowers, and ornamentals.
Our eco-friendly, non-toxic formula ensures the safety of your plants and the environment.
Experience the beauty of your flowers and the richness of your produce with FLOREX fertilizer – ensuring optimal growth and development during the flowering stage!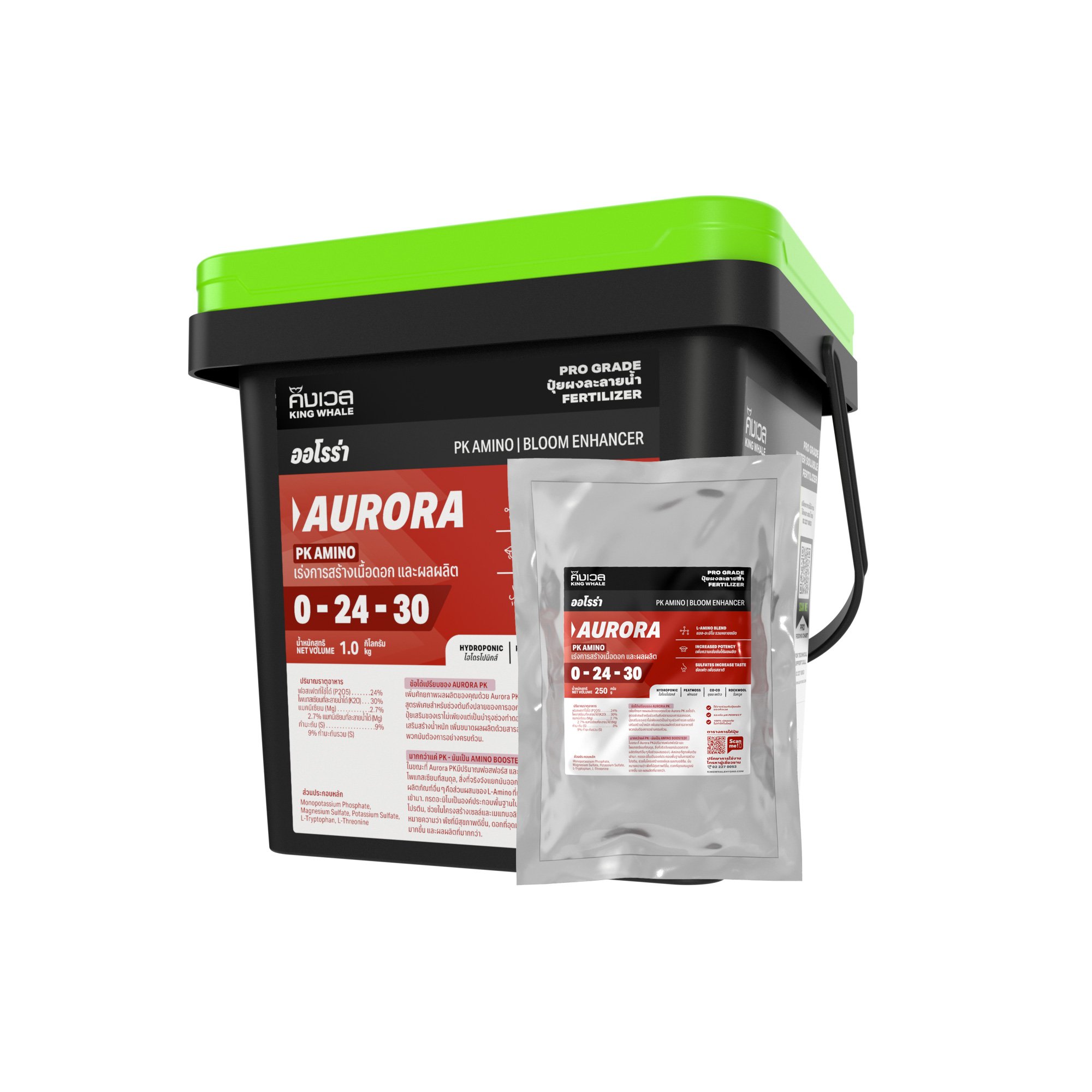 pH Perfect ready
Aurora works with pH perfect so, No matter the starting pH of your water, usually ranging from 4.8 to 8.7, our King Whale COREX, ELDEX, and FLOREX products will instantly adjust the water's pH to between 5.5 and 6.5. This balanced pH level remains stable for up to 30 days
EC 3.0 Ready fertilizer
Our EC 3.0 Ready technology is specially designed to support high-performing plants without causing leaf burn, even at a high EC of 3.0. This ensures your plants reach their full growth potential.
During our tests with an elevated EC value of 5.2-6.0, we observed only minor tip burn. With our King Whale fertilizer, you can expect enhanced plant growth and a remarkable gardening experience.
QUICK USE
For the best results with Aurora, start its application during the flowering stage right after the second week, continuing until harvest. It's recommended to begin with a mix of 0.15 grams per 1 liter of water. As you approach the sixth week, adjust the concentration to 0.25 to 0.5 grams before reverting to the initial 0.15 grams as you near the harvest period.
For plants that are ready, you can opt to increase the dosage to a maximum of 1.5 grams per 1 liter of water during the sixth week. This ensures optimal growth and maximizes oil production!
Unlock the full potential of your plants with KING's – providing the perfect balance of pH, run in highest EC, and essential nutrients to promote a thriving and flourishing garden.
AURORA
0 - 24 - 30
1G. = 1EC
per 1 liter of water
Auto Stable pH
5.2 - 6.3
EC 3.0+ Ready
Stress-Free Growth